The 2021 Subaru Love Promise Customer and Community Commitment Award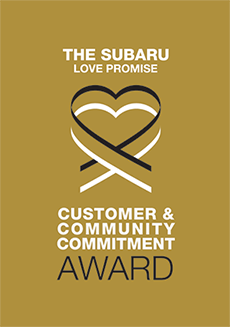 We've been nationally recognized for our dedication to our customers, our community, and the Subaru Love Promise.
We're honored to receive the 2021 Subaru Love Promise Customer and Community Commitment Award. This award nationally recognizes elite Subaru retailers who provide an exceptional customer experience at every interaction with Subaru. These retailers have also demonstrated an outstanding commitment to supporting passions and causes in their local communities in important areas such as the environment, community, health, education, and pets.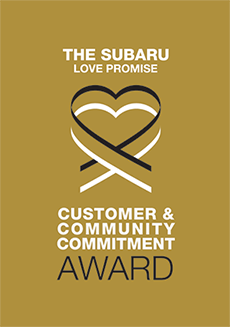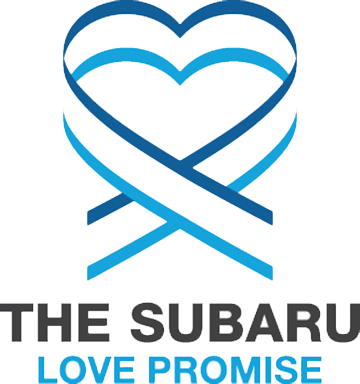 What is the Subaru Love Promise?
Subaru and our retailers believe in making the world a better place and the Subaru Love Promise is our vision of respecting all people. This is our commitment to show love and respect to our customers and to work to make a positive impact in the world.
How is Michael's Subaru of Bellevue dedicated locally to the Love Promise?
Our Love Promise can be seen in various partnerships with local charities and non-profits. We're grateful for the opportunity, not only to be a part of our community, but to serve it as well.
Homeward Pet Adoption Center
Spiritridge Elementary School
Youth Eastside Services, The Forgotten Children's Fund
The Leukemia & Lymphoma Society, Fred Hutchinson Cancer Research Center
Love Promise Stories from Michael's Subaru of Bellevue
Subaru and Michael's Subaru of Bellevue believe in making a positive impact on the communities in which we live and work. We uphold that belief through our Love Promise Community Commitment. Every month, we select inspiring stories from customers and partners from around our area who strive to support our collective commitment and feature them here
Fill the Forester Food Drive - Leeann H
Michael's Subaru of Bellevue is partnering with Food Lifeline during the month of March to Fill the Forester! So many of our neighbors in Western Washington are still struggling as a result of the pandemic so Michael's Subaru has challenged its customers and community members to Fill the Forester to help restock the shelves of local food pantries, shelters and meal programs. Michael's Subaru will be delivering the donation of shelf stable food and supplies to Food Lifeline's warehouse on April 2nd and we can't wait to share the impact that delivery will make in our communities.
---
Community First - Sarah S
This past year has had a major impact on local businesses, including ours here at Cypress Coffee Company. As a small, locally owned coffee shop nestled among houses and offices our goal is to create a comforting sense of community. We pride ourselves in building and sustaining an environment that thrives on developing new and lasting relationships with every person that walks through our doors. Michael's Subaru in Bellevue helps us get closer to that goal every year. Not only have they continued to support us by sending their customers to our store, but we have also grown to know the staff and they have become part of our community. We look forward to the Subaru Loves event every year, because it gives us the opportunity to give back to our community. It allows a large company and a small local business to come together to spread kindness and love to our customers, which during a time like this is needed more than ever. For this event, we collaborated to create Subaru/Cypress reusable sleeves and a variety of Subaru swag. The best part of this event is being able to give customers the surprise of purchasing their drinks because it shows our community how much Subaru and Cypress appreciate their loyalty to businesses like ours. We are beyond thankful for the team over at Subaru who took time out of their day to come over and spread love to our customers.
---
A Special Experience - Jennifer D
Buying a car in the past has always been a dreaded, stressful experience. Tim and Art at Michael's Subaru went above and beyond to make buying a Subaru pain-free, easy, and even FUN! We are so excited to join the Subaru family and even more excited to feel confident about our choice to purchase with Michael's. We will definitely work with them in the future for all car-buying.
---
We love Michael's Subaru! - Lidia H
Youth Eastside Services (YES) has had the honor of participating in Michael's Subaru of Bellevue Share the Love Event for the fourth year in a row. For 2020, we were elated to learn that our young clients received a 53% increase from last year to support their recovery! This donation will allow YES provide mental health and substance use services to 130 children and youth who would not be able to afford services otherwise. This includes youth like Hannah who at the young age of 16 found herself addicted to cocaine and Xanax. Thanks to the support of Michael's Subaru of Bellevue, Hannah was able to receive help she needed. A YES co-occurring disorders counselor taught Hannah safer ways to cope, and a YES psychiatrist helped Hannah manage her medication. Today Hannah is studying to become a behavioral health counselor and help others like herself, all because community partners like Michael's Subaru of Bellevue believe that every young person deserves a healthy and successful future. Thank you Michael's! *The client story told here is true, yet the name, image and identifying information has been changed to protect the privacy of the individual. *The client story told here is true, yet the name, image and identifying information has been changed to protect the privacy of the individual.
---
"Making Magic Happen with Horses" - Forgotten Children's Fund M
Michaels Bellevue Subaru – Bellevue WA and Subaru's Share the Love "Making Magic Happen with Horses" "I can do it because I believe in me." Those words spoken by a young girl with Down syndrome who was about to take her very first horse ride. Watching the other children for a long time, she finally took a deep breath, overcame her anxiety and swung her leg over the saddle. With wide eyes and a jubilant smile, she was lead around the arena on "DANCER" one of the equine partners at Whidbey Island's M-Bar-C Ranch. Thanks to "Michaels Bellevue Subaru and Subaru's Share the Love" campaign this little buckaroo will never forget that very first ride. The M-Bar-C Ranch is owned and operated by the Forgotten Children's Fund; an all-volunteer Seattle based Christmas charity serving area families in need at Christmas time. The Forgotten Children's Fund, over the years, has also been the grateful recipient of Subaru's generosity. During the summer months, the M-Bar-C Ranch becomes the face of the Forgotten Children's Fund providing an enjoyable day of horseback riding, exploring, and tractor pulled wagon rides. Our Western themed town and costume shop enhance the experience with imaginative play. A miniature horse, creative crafts and cowboy grub make for a fun-filled day. It's free of charge to all our visitors. Children and adults with special needs and their families can put aside their disabilities, forget their troubles, relax and have some good old-fashion fun in a safe and beautiful setting. The Ranch is all volunteer run and relies on donations and fundraising to continue to make magic happen and put smiles on the faces of more than a thousand visitors every summer. Groups from the Down Syndrome community, Seattle Children's Hospital, Compass Health, Boys & Girls Clubs, foster children, children on the autism spectrum, special needs school classes and summer camps and parent to parent support groups of children with special needs. With funds from Michaels Bellevue Subaru, the Ranch accomplished multiple capital improvement projects and replaced aging equipment. We were able to install thousands of feet of new pasture fencing to keep our horses safely contained. We built a new shelter for our equine partners, purchased a new tractor and farm utility vehicle and our biggest project, that will be completed this year, is an expansion of our covered arena where a lot of the magic happens. We have many extraordinary and meaningful moments at the Ranch. Anyone who has spent time around horses understands how these remarkable animals can help heal emotionally, psychologically and physically. They can make fearful and timid children beam with delight. They can help children who don't have the use of their legs feel on top of the world. And they can brighten the spirits of children in the foster care system and those who don't have a permanent home. The M-Bar-C Ranch is truly special and at times magical. We can continue to do it because we believe in you! Subaru of America and Michaels Bellevue Subaru, thank you for all you do in making the world a better place!
---
Michael's Subaru Supports the MLK Walk in the Park - Jen A
Friends of Lake Sammamish State Park would like to thank Michael's Subaru of Bellevue for supporting the first ever MLK "Walk in the Park". Their sponsorship helped create a new event to bring people into the park in a safe way during COVID. Michael's Subaru of Bellevue not only helped us celebrate and pay tribute to the life, leadership and legacy of one of America's most revered citizens, but also helped to bring diverse communities into Lake Sammamish State Park to enjoy nature and outdoor recreation. We received so much positive feedback from the event and Michael's made it happen!
---
Loki's Journey Home - Natasha D
During this year's virtual Subaru Loves Pets event, we featured Loki, a sweet husky with severe separation anxiety. He's perfect in every way, but can't be away from people for even a minute before he attempts an escape, usually injuring himself in the process. It hasn't been hard to find people who are interested in his looks, but we really needed someone interested in the whole package. Getting more eyes on Loki thanks to our partnership with Michael's Subaru may have been exactly what he needed! While the adoption isn't finalized yet, Loki has spent the last few weeks in his foster-to-adopt home with a greyhound, lots of kids, and a veterinarian. They've already reached out to tell us how wonderful he is and how happy they all are together! Thank you to our friends at Michael's Subaru for helping Loki find his fur-ever home!
---
Inaugural Nguyen Junior/Am Golf Tournament - Anna N
Thank you to Michael's Subaru of Bellevue Washington for sponsoring the first annual Nguyen Junior/Am Fundraising Golf Tournament. With a full field of 144 golfers and support from generous sponsors like you, we raised $24,415 for the Washington Junior Golf Association! The Washington Junior Golf is dedicated to supporting junior golfers by providing a comprehensive, competitive program which helps build character and sportsmanship, providing lifelong benefits.
---
Peak Sports and Spine PT Virtual 19k for Charity - Melanie A
Thank you to Michael's Subaru of Bellevue Washington for sponsoring the first annual Peak Sports and Spine Physical Therapy Virtual 19K for Unity. With 180 participants, united in moving, we raised over $4,000 while working towards empowering our community to live healthy, fulfilling, and happy lives. All proceeds benefit International Community Health Services and Hopelink, offering services to our most vulnerable populations regarding health, equity in health care, food insecurity and unemployment.
---
Sharing Love on Valentine's Day at Cypress Coffee - Mattie M
The team from Michael's Subaru went above and beyond for our customers at Cypress Coffee on Valentine's Day this year! We had a visit at our Eastgate location from some of the crew at Michael's Subaru during the late morning where they surprised our customers by buying their drinks, giving them gift cards and handing out Valentine's Day swag. Our customers were moved by the generosity of Michael's Subaru. This one simple random act of kindness went a long way and spread love and positivity throughout our cafe, on February 14th and beyond. We are so thankful to the team at Michael's for partnering with Cypress Coffee to be a positive influence in our community and bring joy to our customers.
---
Michael's Subaru and Forgotten Children's Fund - Kirstin K
As an employee of Michael's Subaru of Bellevue, my family and I have volunteered for The Forgotten Children's Fund for the past 15 years. We look forward to giving back to those that are not as fortunate as many of us during the Holiday season. To know that these children and their families will be able to wake up on Christmas morning with food on the table and something to open makes our hearts smile. These families that are chosen each year are in desperate need of some help. Many families have nothing in their cupboards, no furniture or the simple necessities that we all take for granted. Each family receives a holiday meal to prepare, each child receives a bicycle and helmet as well as presents. This would not be possible without the countless hours of volunteers and donations needed in order to ensure that The Forgotten Children's Fund is able to continue bringing a smile and comfort for those in need during the Holiday season. Donations and volunteers are absolutely vital in the success of The Forgotten Children's Fund. Michael's proudly supports this great organization as our local Share the Love charity every year. Please consider donating to this wonderful cause. Sincerely,The Pollard Family
---
Best Festival Yet, Thanks to Michael's Subaru! - Rue K
The Perfect Push would like to extend a sincere thank you to Michael's Subaru of Bellevue for being a sponsor for the largest Northwest FamilyFest to date! Their generous contributions were wonderfully received and helped attract over 2,000 people. The commitment to support local communities was apparent and all festival attendees loved the beautiful model car as well as the Dirtfish Rally Car raffle sponsored by Michael's Subaru. The 2019 Northwest FamilyFest was more than we could have ever asked for and it was an honor to partner with such an upstanding, quality, local business. Together we raised over $3,000 for local charities and their donation of all the recycling containers throughout the Festival helped to ensure we represented and maintained the beauty of our home. We look forward to partnering with them any chance we get!
---
Michael's Subaru of Bellevue Brings Comfort - Katie J
On July 18, 2019 Swedish Cancer Institute in Issaquah received their favorite delivery of the year, the Subaru gifts for their patients. The Leukemia and Lymphoma Society (LLS) exists to find cures for blood cancers and improve the quality of life for patients and their families and we partner with Subaru across the country to bring these gifts to local cancer centers and hospitals. Mark and Lisa from Michael's Subaru of Bellevue arrived with the many boxes of arts and crafts kits, warm blankets and messages of hope from their customers during the month of June. The messages of hope were so inspirational and many of them were written by children and tugged at all of our heart strings. We were pleased to be joined by Swedish Cancer Institute leadership including their COO, Christopher Beaudoin, MD for this special presentation. The staff at Swedish Cancer Institute and the Leukemia & Lymphoma Society personally thank Michael's Subaru of Bellevue for caring for their patients personally affected by cancer and for helping LLS fund blood cancer research to find more cures.
---
Youth Eastside Services - Madelaine T
Thank you to Michael's Subaru of Bellevue for selecting Youth Eastside Services (YES) for the second time during the 2018 Subaru Share the Love Event. YES received a $12,811 donation which enables us to provide intensive mental health counseling, substance use and co-occurring disorder treatment, and psychiatric services to thousands of children, youth and family members, regardless of their ability to pay. Youth like Caleb, age 17, who has suffered from depression from a young age. At YES, Caleb gained life-changing skills to manage emotional, behavioral and interpersonal challenges through mental health counseling, Dialectical Behavior Therapy (DBT), and YES' free drop-in BGLAD group for youth who identify as LGBTQ+. It is through the generous support of local businesses like Michael's Subaru of Bellevue that youth like Caleb receive the services they need to recover and lead healthy lives. And for that, we offer our deepest, heartfelt thanks.
---
Sharing a smile goes a long way! - Mark
Michael's Bellevue Subaru has been planning a pet adoption day for the local animal shelter, Seattle Humane. To help spread the word, service greeter Daniel offered to hand out fliers and share information with customers to encourage involvement within the community. Daniel went all out! He filled a table with handouts and greeted every customer with a smile and invited customers and employees alike to participate and/or donate. A couple of days before the event, I found out Daniel was not available to attend, but he wanted to make sure he did everything he could for the animals while he was here! Way to go above and beyond to share the love promise! Since Daniel loves dogs so much, I brought my pup in a few days early to hang out and greet with him for a bit. His smile made my day!
---
Caring For Patients at Swedish Cancer Institute - Katie J
On July 20th, Michael's Subaru of Bellevue partnered with the Leukemia & Lymphoma Society for the second consecutive year. They delivered blankets and arts and crafts kits to the patients and kids experiencing cancer at Swedish Cancer Institute in Issaquah. Patients will each receive a beautiful blanket and hand-written message of hope from customers at Michael's Subaru of Bellevue as well as arts and crafts kits for kids. The Leukemia & Lymphoma Society exists to find cures for cancer and improve the quality of life of cancer patients and their families in Washington; and Subaru helps LLS by donating critical research dollars. Thank you again for your care and compassion for the patients at Swedish Cancer Institute; and for helping the Leukemia & Lymphoma Society fund local life-saving research to beat cancer and provide programs and services for patients in Issaquah and beyond.
---
Michael's Subaru Delivers Care to Local Patients - Anne G
Michael's Subaru is a new partner to the Leukemia & Lymphoma Society and Swedish Hospital - Issaquah, and on Thursday, July 13th, Sheree LaRue from the dealership group brought a carload of warm, high-quality blankets to the hospital where they were received enthusiastically, with open arms by Tricia Matteson, MSW, LICSW, and Amy Christian, MSN, RN, OCN who serve oncology patients including those with blood cancers like leukemia, lymphoma and myeloma. They noted that the blankets will be put to immediate good use with patients treated at Swedish Issaquah in the weeks ahead. Pictured L to R are: Tricia Matteson, Sheree LaRue, Amy Christian and Erin Pascall, the Leukemia & Lymphoma Society's Patient Access Manager.
---
Subaru and NWF Loves the Earth - Melinda W
At Cedar River Montessori, we go outside into our 12 acre classroom every day - rain or shine! This year, our environmental educator has been focusing on pollinator education with our students (ages 3 - grade 8). Students observed and studied our native bees, built orchard mason bee houses, and added extra flowers with different shapes to our vegetable garden to attract more of our native bees and other pollinators. Thank you to the National Wildlife Federation and Chaplin's Bellevue Subaru for helping us support our pollinators!
---