The 2022 Subaru Love Promise Community Commitment Award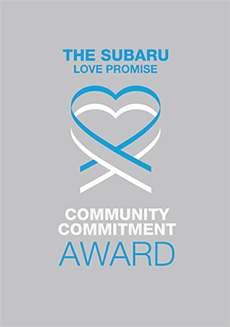 We've been nationally recognized for our dedication to our community and the Subaru Love Promise.
We're honored to receive the 2022 Subaru Love Promise Community Commitment Award. This award nationally recognizes Subaru retailers who are making the world a better place while demonstrating an outstanding commitment to supporting passions and causes in local communities. These efforts are focused in important areas such as the environment, community, health, education, and pets.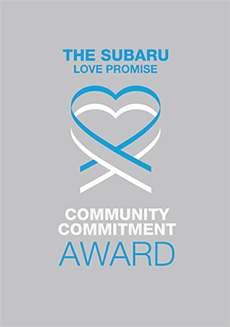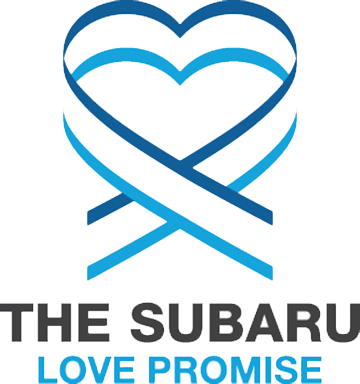 What is the Subaru Love Promise?
Subaru and our retailers believe in making the world a better place and the Subaru Love Promise is our vision of respecting all people. This is our commitment to show love and respect to our customers and to work to make a positive impact in the world.
How is Michael's Subaru of Bellevue dedicated locally to the Love Promise?
Subaru and Michael's Subaru of Bellevue believe in making a positive impact on the communities in which we live and work. We uphold that belief through our Love Promise Community Commitment.
Homeward Pet Adoption Center
Friends of Lake Sammamish State Park
Stevenson Elementary School
Forgotten Children's Fund, Youth Eastside Services
Leukemia & Lymphoma Society, Fred Hutchinson Cancer Research Center, Cancer Cartel
Love Promise Stories from Michael's Subaru of Bellevue
Subaru and Michael's Subaru of Bellevue believe in making a positive impact on the communities in which we live and work. We uphold that belief through our Love Promise Community Commitment. Every month, we select inspiring stories from customers and partners from around our area who strive to support our collective commitment and feature them here
Homeward Pet Adoption Center - Julia H
Through our partnership with Michael's Subaru, we facilitated 127 adoptions during the month of October. Because of this partnership, Homeward Pet Adoption Center and Michael's Subaru helped 127 animals find their perfect, loving home. Thanks to Michael's Subaru's Donation Drive we were also able to provide food, toys, and other pet essentials to our shelter animals, and our partner shelters all over the state. Animals like Lobo, a 16-year-old, fully blind German shepherd/husky mix, found his forever home. Thank you, Michael's Subaru, for your long-time commitment to helping homeless animals and Homeward Pet Adoption Center!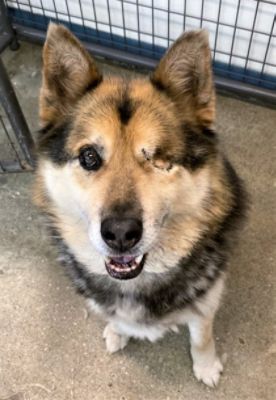 ---
Michael's Subaru of Bellevue Gives Back! - Addie N
On Thursday, June 16, Michael's Subaru of Bellevue in partnership with The Leukemia & Lymphoma Society Pacific Northwest Region, had the incredible pleasure of delivering 80 blankets to Swedish Hospital – Issaquah. Accompanying these blankets were cards filled with comforting words from employees and customers. Since its inception, Swedish Issaquah has committed to providing quality health care services in a compassionate way that supports the patient and their family in a well-rounded approach. Both Michael's Subaru of Bellevue and The LLS Pacific Northwest are honored to have supported an institution such as Swedish – a thought leader in their respective field.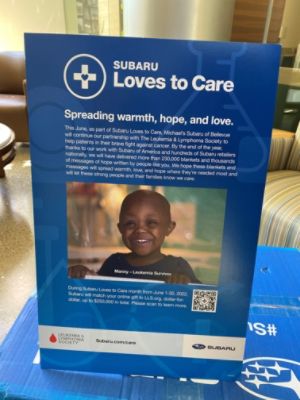 ---
Rose Breaks a Family History of Addiction - Lidia H
Youth Eastside Services (YES) has had the honor of participating in Michael's of Subaru Bellevue "Love" event for the past five years. We were elated to learn that this year our young clients received $8,634 to help support them in their recovery! This donation will allow YES to provide mental health and substance use services to children and youth who would not be able to afford services otherwise. This includes youth like Rose who was just two years old when she was left in the care of her grandmother because her own mother suffered from ongoing drug addiction. Using drugs and alcohol to cope with her feelings of abandonment, Rose said enough is enough when her mother died as a result of her own addiction when Rose was in high school. Thanks to generous donations like that of Michael's Subaru of Bellevue, Rose was able to find the support she couldn't afford. Rose began seeing a YES co-occurring disorder counselor, who treated both her substance use and mental health challenges. She also found additional support from her peers as they worked together through their challenges during YES' 16-week Dialectical Behavioral Therapy group. Last year, Rose celebrated three years sober. Today she finds joy spending time helping her grandmother, taking care of her pets, and creating vibrant artwork.
---
Deserving kids get a day to saddle up - Douglas M
The M-C Ranch started over 40 years ago on Whidbey Island by the founders of the Forgotten Children's Fund. Our volunteers host groups of deserving kids who face unique physical and mental challenges in the real world, at no cost. It's a day at the Ranch where they can play pretend, but also prove to themselves that they can saddle up with the best of them. For most children, it will be their first time riding a horse, an experience they and their families will always remember. A typical day at the Ranch begins with the kids being sworn in as "Official Deputies" of the M-C Ranch, and a visit to the costume room where they select garb that includes anything from Superheroes to Roy Rogers. Our volunteers will supervise all of their activities which will include time in our crafts room, a wagon ride, usually with a singing cowboy, and the highlight of their day, the opportunity to ride a horse. Many of our guests have never seen a horse in person and the realization they're on the back of one can be transformative. The visit will conclude with a hot cowboy lunch for the tired and excited kids. Our continued relationship with with Michael's Subaru and Subaru's "Share the Love" program has enabled the M-C Ranch to continually improve the cowboy experience for our guests. We wish to formally thank Michael's Subaru on behalf of the thousands of deserving kids that we have served for their ongoing support.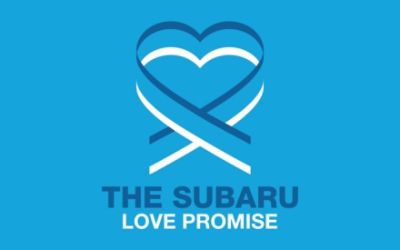 ---
Marley's Journey Through Homeward Pet - Abbie L
In early September, a shepherd mix named Marley came to us in need of a home. Upon intake, we quickly discovered that she had deep puncture wounds all over her back legs, back end, face, and ears. Our clinic team quickly got to work caring for her mysterious injuries, noting that something terrible had likely happened to this sweet pup. After some time to heal, she was cleared for adoption and ready for her new family to find her and fall in love! She didn't receive any interest right away, and slowly became more and more stressed during her stay at the shelter. She became very uncomfortable with handling and even more fearful of men, barking and growling at staff and volunteers who she used to trust. We needed to find her a home… fast. Thanks to our partnership with Subaru Loves Pets and the events we partnered on, we knew we could spread the word about Marley, getting more eyes on her so she could find her perfect match as soon as possible. And thankfully, on October 23rd, just short of two months with us, Marley walked out of our doors with her new family.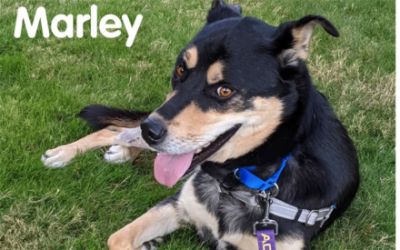 ---
Give to Grow Auction/Bridge Disability Ministries - Sigrid L
Thank You Michael's Subaru for Helping Bridge Disability Ministries raise over $330,000! The "love" was obvious as people were bidding on the items / services they desired. Thanks to Michael's Subaru, Zena's car will get a new lease on life with the complete auto detailing donated. Zena said, "My car will look better than me, I better book a spa day too!" Thank you, Michael's Subaru – Auto Group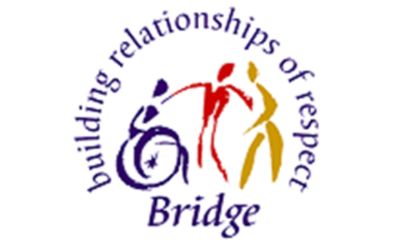 ---
THE 2021 O'BRIEN OPEN EXCEEDS FUNDRAISING GOAL - Judy Y
Michael's Subaru's continued sponsorship allows Seattle University student athletes to achieve their dream of playing Division 1 athletics while receiving a world class education. Through fundraising efforts such as the O'Brien Open, SU Athletics is able to provide critical support such as academic counseling, athletic training, nutrition and mental wellness counseling, and more. Our student athletes graduate at the top of their classes and embody the values of a strong Jesuit education. Following a one-year hiatus due to the COVID-19 pandemic, Seattle U Men's Basketball's annual O'Brien Open golf tournament returned this year to an energized crowd. The event, in its 18th year, drew in more than 130 participants to the Golf Club at Redmond Ridge to enjoy golf, dinner, a live auction, and opportunities to meet the RedHawks' coaching staff and players. In total, the program raised more than $100,000, and ranked among the most successful tournaments to date. The event highlighted an incredible opportunity at Hole #2. A golfer that achieved a hole-in-one was eligible to win a 2022 Subaru Crosstrek, presented by Michael's Subaru.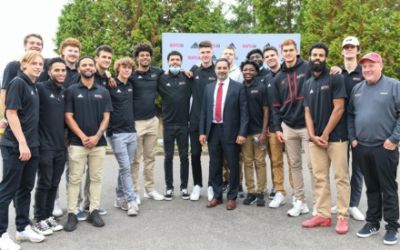 ---
Thank you for empowering people with disabilities! - Alexandrea M
Thank you Michael's Subaru of Bellevue for your unwavering commitment to empowering people with disabilities in the workforce. Since 2014, Michael's Subaru of Bellevue has known the power of employment. They have seen first hand how transformative a job can be for a person, especially one with disabilities. Michael's Subaru hired Daniel on February 26, 2014 as a Service Greeter to greet customers and answer any service questions they might have as they enter the service building. Over the years, Daniel has also helped with handing out company branded water bottles, promoting special and seasonal events, and even signing customers up for free giveaways! Daniel loves his job and being a part of a team with so much heart. Michael's Subaru of Bellevue shows us what a truly inclusive employer looks like. In addition, Michael's Subaru has donated $1,500 to AtWork!'s Champions of Inclusion fundraising event, honoring the achievements of people with disabilities served by AtWork! And the businesses that create life-changing opportunities and experiences. All proceeds go directly back to AtWork!'s mission of serving people with disabilities in the community.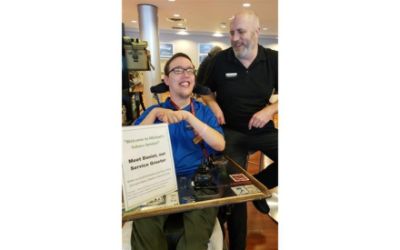 ---